Patching the Bow - Rainbow District Patchwork Artisans
This exhibition is a collection of work made by patchwork artisans from the Rainbow district. Featuring a variety of pieces created by using techniques of applique, hand and machine embroidery, machine piecing and quilting, Sashiko – Japanese style, crazy patchwork, jelly roll ropes, needle turned applique, stained glass window and a Chenille technique. These artisans meet on a regular basis at the Rainbow Learning Group to create these unique works. The works on display in this exhibition have been constructed by Marg Unger,
Alison Ey, Lynne Gould, Elaine Nitschke, Shirley Flack and Amanda Sluggett.

Traces of Transcience - Belinda Eckermann
Anonymous Private Art Collection
MisilArte - Boats that help Boats
This body of work is coming all the way from Argentina.

At a Snail's Pace - Belinda Eckermann
Unseen - Rainbow's VCE Studio Art Folio's
Leaving Her Mark - Liz Winters
Leaving Her Mark
Journey - Michelle Day
Journey
An exploration of Land and Place through atmospheric conditions and formations within the landscape.
Waltzing Matila - Susan McMinn
THE SPIRIT OF THE ANZACS
..and the band played Waltzing Matilda…
Inspired by the legendary song "And the Band Played Waltzing Matilda', by Eric Bogle, this body of work seeks to represent the memories of a soldier as he remembers his journey through the tragedy of Gallipoli. The fifteen charcoal drawings engage imagery inspired by historic film footage of real events surrounding the arrival at Anzac cove. Through a pictorial storyboard, these works capture glimpses of a WW1 n…arrative. The charcoal drawings seeks to represent the courageous coming together of war enemies and the soldiers determination through the adversity of war. Through retracing the memories of a WW1 war hero this work encourages contemplation on the life of the Australian Soldier, as he is portrayed at an Anzac parade many years later, reflecting on his own life, whilst the band played 'Waltzing Matilda.'
Collaborative Wall Draw
 Collaborative Wall Draw
Turbo Gallery would like to invite all members of the Rainbow community, regional artists from Victoria and visitors to the town, to participate in a collaborative drawing project. The result of this project will be a temporary installation drawing on the interior walls of the Gallery. This event will be documented and recorded throughout all stages of development through the use of photography and text. This collection of information will then be collated into a book and sold at the Gallery. This project will begin on March 20th and will end with a closing celebration on Friday April 15th at 4pm.
Nature Is...
Portrait Workshop
Dr. Susan McMinn
This exhibition will begin on November the 1st to coincide with both the Melbourne Cup and Remembrance Day. Don't miss out on this opportunity to see how she has mastered the discipline of drawing and the anatomy of horses. More info to come soon.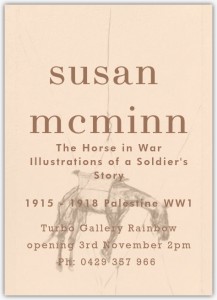 40 Years in the Making
Culmination of Belinda Eckermann's work as she was growing up to coincide with her 40th birthday.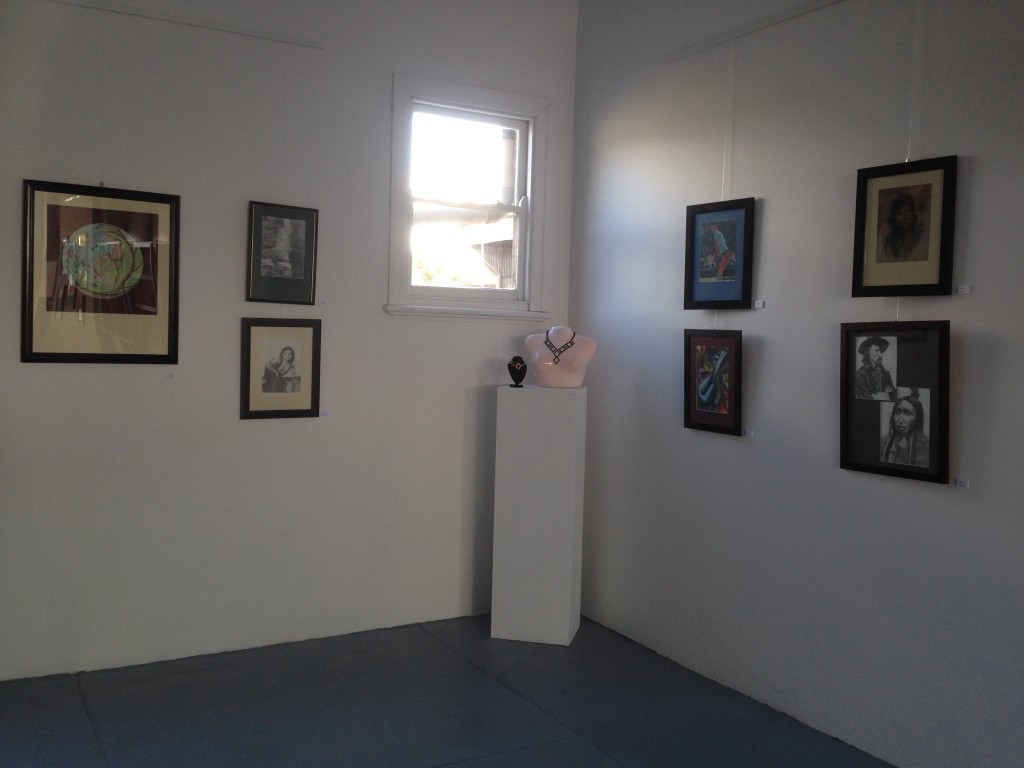 Sensing our Land - Rainbow and Yaapeet Schools with Michael Shiell
Cocktails and Brawn Exhibition