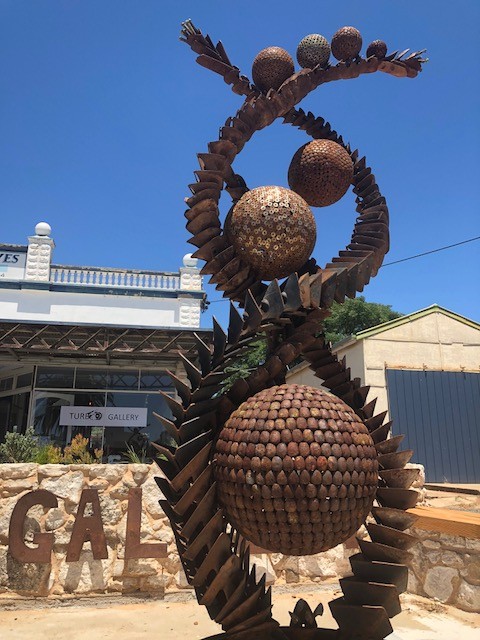 Turbo Gallery is a contemporary space which showcases the work of local and visiting artists. The Gallery also offers other artistic services and opportunities. Situated on the edge of the Mallee, Rainbow is a small town amongst a rural community. The Gallery prides itself for providing a unique experience to its customers and opportunities for local and emerging artists.
The gallery will be available for rotating exhibitions. It is anticipated that exhibitions will involve the work of featured artist Belinda Eckermann, other local artists, school student exhibitions and visiting artists.
The Gallery features the work of local artist Belinda Eckermann. Her original works are displayed for sale and there will soon be limited edition prints and memento's available.
Commission work is welcome.
Gifts are either made by hand or have an art related theme to them. These range from 2yrs to adult.
Purses & Bags, Jewellery, Scarves, Carved Candles, Pop Art Clothes, Puzzles, 3D and Magnetic Pens, Miscellaneous Items, Gift Certificates and more
Below is a list of professional quality art supplies at competitive prices
– Children
Crayons, Finger Paint, Paint Tubs, TaDoodles, Splash Mats and more
– Professional
Oil Paint, Acrylic Paints, Watercolour Paints, Leather Paints, Inks, Pastels, Special Papers, Art Graphs, Easels, Wood Burning Tools, Super Sculpey, Liquid Latex, Art Books, Brushes and more
Handmade Frames, Moulded Frames, Archival Mount Boards.
Come in to see the range and request a quote today.
We offer specialised art programs for Adults, Holiday Programs & offer regular Tutoring services. Enquire now.
UPCOMING CLASSES
Call for further details. Bookings essential.
The Gallery has an online store and will deliver locally or post to other locations. Go to our store by following this link: Turbo Gallery Online Shopping